Recipe: Best Wildtree Chicken Alfredo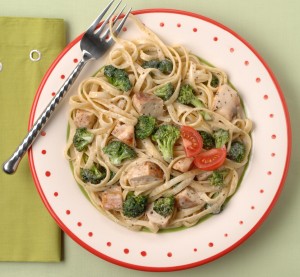 Summary:  This recipe easily rivals gourmet Alfredo Sauces. Thanks to April Greer, who submitted this recipe to the Wildtree Site.
Ingredients
1 pound boneless Chicken, cubed
2 Tbsp Roasted Garlic Grapeseed Oil, #10226
Rancher Steak Rub, #10416
16 ounces Fettuccine or other Pasta
1 small bag frozen Broccoli
Optional: Mushrooms, sliced
For Alfredo Sauce:
1 cup Half-and-Half, or combination of Milk & Half-and-Half, or just 2% or whole Milk
10 tablespoons Butter, unsalted
¾ cup + 1 Tbsp Wildtree Alfredo Extraordinaire, #10643  (this measurement is the equivalent of the entire contents of the 3.15 oz package #10549)
Instructions
Marinate chicken cubes in a bowl with Grapeseed Oil & Rancher Steak Rub for 30 minutes
Cook pasta according to package directions
Meanwhile, cook marinated chicken cubes in large skillet, adding the optional sliced mushrooms near the end, and set aside or use warmer zone on stove top to keep warm
Steam broccoli or drop in with the boiling pasta & return to a boil for about 5 minutes
To prepare Alfredo Sauce – Melt butter with milk in medium saucepan – When totally melted, add the Alfredo Extraordinaire – Whisk or stir briskly until combined
Once noodles are done, drain pasta & broccoli
Mix together noodles, chicken, broccoli, & sauce in a large serving bowl
Quick Notes
If you anticipate leftovers, refrigerate a little of the pasta water to add to the dish during re-heat.
Variations
Optional substitute: 1/4 cup + 1 Tablespoon milk or chicken broth in place of half of the butter.
Omit the chicken, and the Alfredo Sauce in pasta with broccoli or other vegetables can stand on its own.
Number of servings (yield): 6