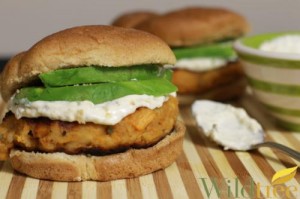 Recipe: Wildtree Sweet Potato Burgers
Ingredients
¼ cup light mayo
¼ cup light sour cream
1 tablespoon plus 2 teaspoons Wildtree Garlic Galore Seasoning Blend, #10725
½ teaspoon roasted garlic (optional)
1 (15.5 ounce) can cannellini beans, drained and rinsed
1 large sweet potato, baked and skin removed (about 2 cups chopped)
2 teaspoons Wildtree Mediterranean Dry Rub, #10824
1/3 cup panko crumbs
1/3 cup flour
1 egg, beaten
5 whole wheat buns
1 avocado, sliced
Instructions
Mix together the mayo, sour cream, 1 tablespoon Garlic Galore, and roasted garlic; set aside.
In a mixing bowl crush the beans and sweet potato.
Stir in the Java Rub, remaining 2 teaspoons Garlic Galore, panko, flour, and egg.
Refrigerate mixture for about 20 minutes so it will become easier to work with.
Shape mixture into 5 patties.
Cook patties in a greased nonstick skillet over medium heat until cooked through, about 3-4 minutes on each side. (The bottom of the patty should be golden brown before you flip it.)
Serve on a bun with some of the prepared spread and avocado slices.
Quick Notes
Calories: 410 Fat: 14g Saturated Fat: 2.5g Carbohydrates: 62g Fiber: 12g Protein: 13g Cholesterol: 50mg Sodium: 750mg
5 Servings
One Comment to