Recipe: Wildtree Baked Green Bean Fries with Garlic Aioli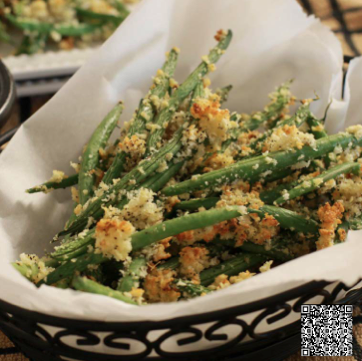 Serves 5

Ingredients
2 eggs
1 cup Italian style bread crumbs
8 ounces French green beans (Haricot Verts)
2 tablespoons light sour cream
2 tablespoons light mayonnaise
2 teaspoons Wildtree Garlic Galore Seasoning Blend
2 teaspoons prepared horseradish
1 teaspoon Dijon mustard
Instructions
Preheat oven to 400°F.
Line a baking sheet with parchment paper.
Whisk the two eggs in a bowl.
In a separate bowl add the bread crumbs.
Dip the green beans in the egg, coat in the breadcrumbs, and place on the parchment lined baking sheet.
Bake for 12-15 minutes or until breadcrumbs are golden and green beans are tender.
While the green beans are baking, mix together the remaining ingredients.
Serve as a dipping sauce with the green bean fries.
Quick notes
Calories: 160 Fat: 6g Saturated Fat: 1g Carbohydrates: 21g Fiber: 3g Protein: 6g Cholesterol: 90mg Sodium: 730mg